I'm Alive...
Details

Written by

Andrew Townsend

Category: News
Hits: 7
Just in case there is anyone desperate enough to swing by here, I thought I ought to make a post. It's been over a year since I last posted anything, so this is just an update to let you know what's been happening.
Well - not a lot musically actually, although there have been the odd moments of creativity but not a great deal to show for it. The main reason for my lack of activity here has is because my (limited) available time has been devoted to the completion of a house extension which, as always, is taking a lot longer than I would like. Basically, I had the main shell built by a builder which has left me with the job of completing everything internally from plumbing, woodwork to electrics, plaster boarding, minor building jobs etc. etc..  Although it has been a long process, for me it has one distinct advantage: allowing me to implement new ideas and design changes along the way that I might have otherwise just made do with. Of course, there is another reason I should have perhaps mentioned first of all and that's the small matter of costs! Well, there is a significant cost saving in doing this myself of course and if I wasn't doing this work then we would most likely not be having the build done at all. I'm working on the electrics at the moment and have just started drylining the main room.  I can mix and match jobs as well - so I can put my electricians hat on one minute and switch to chippy, plumber, builder etc. next. The job is coming along but there is still a huge amount to do but I just have to focus each job at a time and be patient. The only job that I intend sub out will be the skim plastering very near the end.
My earlier studio build was perhaps a great learning experience in preparation for this although, in many ways, the studio was a more technical challenge than this. That said, I did need to do a lot of research in terms of planning/building control and regulations for this project. I did all of the planning and build drawings for this job, so I had to get myself up to speed with the process. All-in-all, I'm very pleased so far with the way things have gone and it's something that I seem to enjoy at the same time. I had to employ a structural engineer to sign off my design to ensure that it satisfied building control and, more importantly, didn't fall down!
In terms of music/studio I have just been keeping things ticking over and ensuring that the studio systems/software are updated. There's probably been two updates to Cubase since my last post and the latest v 10.5 was only released a short while ago.  I still enjoy finding out what the latest version brings to the table and I like to keep things up to date so that, when I can devote more time to music, I have the latest and greatest available. I am planning to build a dedicated desk for the studio, replacing the adhoc setup I have now. Although functional, the current setup consists of an adapted dual keyboard stand with some additional pieces of wood to stand the monitors etc. on. It works better than it sounds but it's time to make an improvement in this area.
Anyway, that's enough for now - turned into a long post in the end.
Nektar Panorama P6 - Update
Details

Written by

Andrew Townsend

Category: News
Hits: 393
OK, so I didn't get around to posting an update on the P6 immediately as I thought. That's possibly a good thing really as it's better to give a new piece of hardware more time to establish itself in the setup. Especially with a controller keyboard like this, which has fundamentally changed my workflow.
All in all, the P6 is settling into its roll well and although the keyboard doesn't have the best feel overall it is a compromise between a piano and a synth feel. I'm certainly not using the controller to its full potential but I'm gradually using it more and more as time goes by. I'm not a big synth sound tweaker but I have found the tactile filter/envelope control really nice, resulting in me tweaking sounds a bit more.
The transport controls are excellent and I'm finding these great and I use these more often than not. I also now very rarely use a mouse for fader and pan movements, with the motorised fader and the small mixer sliders getting a lot of use. With the latching when the current channel volume is reached it's really usable.

I can understand the few criticisms I read before purchasing the P6 and I was, and am still, not entirely convinced with the look and feel of it.  But, for me, I can't see any other controller offering the same level of flexibility of control. I'm using the mouse a lot less for tracking and general mix operations now. I have experienced the occasional glitchy connections but its never been a deal breaker.
New Year and new MIDI controller
Details

Written by

Andrew Townsend

Category: News
Hits: 547
Another long pause between posts - another year passes.
I've been considering picking up some kind of MIDI controller device to integrate with Cubase. Having looked at various options over the years, including DAW mixer control boxes and full keyboard controllers from a number of manufacturers. I had in mind the Akai MPK261 for some time and liked the overall appearance of it though I wasn't entirely convinced by its integration with Cubase.  I had also been looking at the Presonus faderport with a single motorized fader which looked to work pretty well with Cubase but of course this only provided transport and a few other functions along with the automated fader movement.
I then got to thinking that wouldn't it be great if there was a keyboard controller with a single motorized fader and transport, reducing the footprint of separate  keyboard controller and transport. I did a search and the Nektar Panorama P4/P6 came up. This has exactly that and although I had seen them around I wasn't entirely convinced by the look of them so I didn't dig any deeper.
It immediately became clear that the P6 controller has some fairly detailed Cubase support. I have since spent some time reading feedback on the web via reviews and user experience with the P6. As always there's negative reports on some aspects of the device but on the whole it seems like a great choice with perhaps a little patience with the setup and adapting to the workflow. Andertons delivered one from stock today so we'll see how it goes over the weekend. I'll post a report.
Studio Front End Setup Overview
Details

Written by

Andrew Townsend

Category: News
Hits: 945
As I have finally put together the hardware setup I thought I would post an additional item to talk about the setup of the front end of the studio i.e. the input/output hardware. The Apollo Twin USB and its associated console software are the hub of the setup and with the addition of the Focusrite OctoPre 8 channel preamp maximise its IO capability. With two Unison ( >>more info<< )  capable inputs on board for use with instruments or microphones and 8 mic/line inputs via the OctoPre ADAT link. There are also ample stereo outputs: monitor, line out & headphone connectors. The monitor outs connect to the Adam A7X studio monitors, the Line outs 3/4 connect to the Behringer HA4600 4 channel headphone amplifier. Of course with the addition of the UAD-2 Satellite Octo I have a lot more DSP available for tracking with effects too, further enhancing the recording capability.
Below are the items used in this setup:
UAD-2 APOLLO TWIN USB
UAD-2 SATELLITE USB OCTO
 FOCUSRITE OCTOPRE MKII
BEHRINGER HA4600 HEADPHONE AMP/DISTRIBUTION
ADAM A7X MONITORS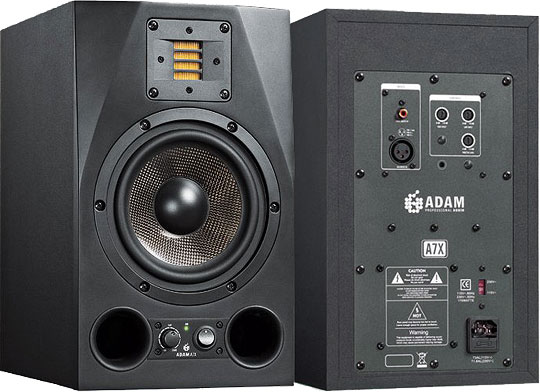 Universal Audio Satellite Octo
Details

Written by

Andrew Townsend

Category: News
Hits: 812
To expand the processing power available for my growing collection of Universal Audio plugins, the UAD-2 Satellite Octo is a welcome addition. The unit itself has very little in terms of connections, simply a power connector and a USB3 port. It essentially adds an addition 8 SHARC DSP processors available for my DAW, increasing the total number to 10 including the 2 inside the Apollo Twin USB. Connection and installation was very straight forward as my UAD-2 install already had the drivers ready for the unit to be connected. I just had to go through the very simple registration process online for the Octo to be available under the UA Console application.
With both the Apollo and the Satellite units being external devices I will be able to easily use them with any other system I might want to run my UA plugins on. I might well purchase a laptop at a later stage and this will be flexible for use in other locations.
I had actually decided to hold off purchasing this as there had been a significant price increase over the last few weeks. I suspect this was as a result of recent exchange rate changes against the dollar. However, this had dropped a little, though not down to the previous level. I contemplated doing something in the new year. Early in January UA added a promotion on the expanders giving a substantial reduction below even the lowest price. It was an opportunity not to be missed. Andertons had one in stock and I ordered on a Sunday and to my surprise it was actually dispatched that day and arrived the following day (Monday) - now that's a first for me!
Yamaha Revstar RS320
Details

Written by

Andrew Townsend

Category: News
Hits: 901
I've been looking at adding a solid body hum-bucking guitar to my list for some time and when Yamaha released their new Revstar range of guitars last year I immediately liked the look of it. It's not often that a new shape of guitar comes along and offers something original and yet has lasting appeal, which I believe this does.  I've never been a fan of the Les Paul and other similar setups though I have considered a PRS many times but never took it any further.
I demoed an RS620 in my local store a few months ago and I was suitably impressed with it both from a visual perspective and for its playability. Though I didn't do anything at the time I knew this was an ideal choice it was just a matter of when. Anyway, during the recent Black Friday deals I spotted a deal on the bottom of the range RS320 online and decided to take the plunge. For me this offered the best value for money and having heard decent reports about these low spec guitars I could forgo the bling and the fancy finishes of the higher range versions. All I needed was a guitar that played and sounded good.
The guitar arrived the following  day and upon opening the box I was suitably impressed with the look and finish.  I then spent a bit of time playing it acoustically and on the whole it was great to play. However, there was an issue with buzz around the 10/11 frets. I raised the bridge a little bit which alleviated this slightly though it was still an issue and I like a low action anyway.  Over the next couple of days I spent some time with it playing it through my UAD guitar plugs in the studio and loved the sound. I left it a couple of days and then set about checking for any fret issues around the area of the offending frets and indeed the 11th fret was slightly proud of the 10th/12th. I went to the workshop and selected a couple of small files, some glass paper and masking tape.  I masked either side of the 11th fret and carefully filed it down until level with the frets either side.  I re-tuned it and checked out the action - much better actually but still a clear buzz mainly on the D string. Upon further inspection I found a raised area on the 10th fret only around the A D string position. I repeated the filing around the offending area and re-tuned again. Bingo! There's still a very tiny amount of buzz but I'll sort this another time.
Now the action is pretty much sorted I spent more time with the guitar amped up and I have to say I'm very impressed with the thing. I was even able to take the action down close to my preferred height with little or no affect on the buzz issue. I'm looking forward to tracking with my new toy in the weeks ahead!