30th March 2015 - Monitor time...
Details

Written by

Andrew Townsend

Category: Studio Build Blog
Hits: 2232
Wow, when was my last studio build post!
When reading back on that entry I noticed that I mentioned the need to upgrade my monitors before I could be completely happy with the set up.  Although I'm sure that there are many other comparable monitors now available since I demoed Adam Audio A7Xs a while back I decided to stick to my guns. Also, despite the fact that Adam have been in a somewhat precarious financial position of late, I feel confident that they will ride their troubles out. And given that they are still clearly held in high regard by a lot of people along with the fact that I found them available at a hard to resist price I ordered them.  I don't actually have them yet but I should take delivery in the day or two, so I'll have an opportunity to test out before my Easter holiday.  
In terms of studio build I guess that I can say that I'm in the post build stage where I'm making full use of the studio as well as making tweaks to the set up and generally refining the layout of the (very humble) space. This includes downscaling the e-drums to take up less space and to be accessible from my normal mix position on a single stand rather than on the rack. The area behind me where the drum rack was located has become a more permanent recording area for vocals/guitar etc.
Having a small recording space really makes you appreciate the ITB (In The Box) features of current DAWs - I can't imagine having these many resources available 10 or 15 years back. The hardware equivalents would fill my studio two fold I suspect. I'm pretty well entirely computer based now and the only external hardware, apart from guitars & keyboard, are Focusrite audio interface, Focusrite Trakmaster channel,  headphone amp and my Servo monitor amplifier. The later here will of course be retired from the studio once the A7Xs (active) monitors are in place. This will mean I'll have a 2U space available in my rack space - though I'm not sure I have anything worthwhile to put there.
Adam A7X Active Monitors...
Details

Written by

Andrew Townsend

Category: News
Hits: 2397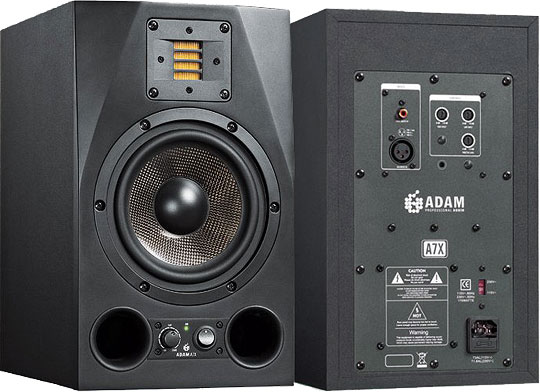 This is probably the last large addition to the studio for some time but they have been on the list for a while. The Adam A7X active monitors are well renowned in this price bracket and size and I have demoed them in the past so I'm confident they will meet my needs for the foreseeable future.
However, it wasn't until I started looking around at retailers when it was obvious that something was amiss. Stock of all Adam stuff was rare in all retailers and I subsequently found out about the problems they'd had towards the end of last year (2014). I was shocked to hear that they had been placed into administration but relieved to hear that through reorganisation they were saved. Supplies started to roll again early in the year but stock was obviously still an issue.  Despite this I am assured that stock will be arriving at my chosen stockist shortly and I should see my A7Xs within a week - before Easter hopefully.
This does mean that my trusty Alesis Monitor 1s will finally be retired after many years of use. Although they have been great monitors, I'm looking forward to greater level of transparency and detail the Adams will bring to my mixes. Also, the M1s are passive so the Samson Servo 170 amp will no longer be required.
Note: Ok, monitors should be with me before Easter (31/0315) - so a bit of time to test before my holiday!
8th July 2014 - Hello...
Details

Written by

Andrew Townsend

Category: Studio Build Blog
Hits: 2779
This is just a short post to both add a couple of photos relevant to earlier posts and an update.
All is well and I now feel like I have a working studio despite the fact that there are still a few outstanding finishing touches and further things to sort out. I guess there will be ongoing tweaks and refinements to this space.
Firstly, here are a couple of shots showing the room treatments so far. You can see the two 120 x 60 x 10 cm and two 60 x 60 x 10 cm panels on the side walls and you might just be able to see the 120 x 60 x 10 cm panel behind the displays. This panel isn't fixed in position at the moment and is just resting on the dado trunking. I'll need to move the workstation stand to do this so that's for another day.
In addition, I thought I would mention here that I have just acquired a new microphone which has been on my shopping list for some time. It's the Neumann TLM 102 and if you look closely you can see it in the second image above.
Another thing worth mentioning and, again, something you can see from the images above. I've added a couple of guitar brackets to the side walls. I was also able to make use of the hanging rails enabling me to attach the brackets without drilling any further holes in the wall. These brackets came with a wooden block for the bracket to attach to but I wanted them to be as low profile as possible so they were put aside and the brackets were attached directly to the rails.
That's just about it for now but I thought I would mention some things I still need to look at. Primarily, the room acoustics which I haven't got round to measuring yet. Although I've been happy with the Alesis Monitor Ones I feel they may be a weak link now and it looks as though the next item on my shopping list new monitors could be round the corner (possibly the Adam A7X). Having just bought the microphone this won't happen for a while, and I'll most likely do some work treating the space with the existing set up before then. 
I did say that this would be a short post and it's always the way that once you start writing you think of many other things along the way. That is it for now - until the next update...
18th February 2014 - Treatments...
Details

Written by

Andrew Townsend

Category: Studio Build Blog
Hits: 1746
Having been spending a fair bit of time recording when I've had the chance I finally got around to making the acoustic treatment panels to attach to the walls. I had read many other ideas on the net of ways to construct them but I wanted to take it back to basics. Most people tend to make a frame for the mineral wool to sit inside before it is covered in fabric. My thinking was that the 120 x 60 x 10cm panels are pretty rigid anyway so what about simply wrapping them in the fabric. This is fine but the problem comes when you want to keep the fabric in place. I came up with the idea of simply placing some very thin timber inside the centre where I need to make a joint at the seam and the same at two ends where the ends need to be closed off. I have a pile of 4-5mm thick cladding material that seemed to fit the bill quite well so went about cutting the lengths to suit. When it came to wrapping the slabs it was important to cut them fairly accurately to ensure that the ends and corners were tidy. With a fair bit of patients and thought they actually turned out rather well. Next problem was to deal with the attaching to the walls.
I wanted a fairly simple solution with minimal amount of wall drilling and I finally decided on attaching a batten to each side wall much like a picture rail and the slabs could then simply be hooked in place. The added advantage here is that it allows for a degree of adjustment ion position. Doing this also means that the screws can be positioned exactly where the vertical wall studs are so no unsightly big holes and wall plugs are required and if I decide to change things later I can remove them easily with only very small holes requiring filling.
I bought a number of steel angle brackets and plates which attached to the slabs to create the hook. You'll see this better from the photos to be added later...
3rd January 2014 - Happy New Year!
Details

Written by

Andrew Townsend

Category: Studio Build Blog
Hits: 1423
Another year passes...
Not too much to write here. I had a decent break over the Christmas period and probably the major achievement was to record a short version of Rockin' around the Christmas Tree in the studio. I enlisted the help of my daughter to sing lead vocal on this track and it seems to be becoming a bit of a Christmas tradition for our family. Just in case you're interested:
https://soundcloud.com/ecoda/rockin-around-the-christmas-1
In terms of studio building I did get a minor job done. Well, when I say minor, I took the best part of a day actually as it involved lifting the carpet and floorboards in my daughter's bedroom. Having previously run CAT6 cabling around the house I hadn't actually got the studio completely hooked up. However, I had cables coiled up under the floor in the bedroom ready to complete the run to the network switch located in the loft. This was reasonably straight forward and involved lifting up a couple of floorboards and drilling a hole in a floor joist to route the cables into the airing cupboard in that room. Then a large hole was drilled through the ceiling into the loft. These were then punched down into the patch bay. All that is left to do is join the ends of the cables above the kitchen loft downstairs - I have ordered some in-line punch down couplers for this so should be complete at the weekend. Hopefully there are no breaks in cables or badly punched down wires.
I had so far used some mains (homeplug) devices to gain a LAN/WAN connection in the studio but they are not proving to be very reliable through 2 consumer units.
28th November 2013 - Tumbleweed...
Details

Written by

Andrew Townsend

Category: Studio Build Blog
Hits: 1536
Here I am again with a brief blog entry to let you know that I'm still alive!
I've been very busy with other household jobs and, of course that other distraction, work. I still have many small jobs to do in the studio. Amongst other things, room treatments and other minor things - I still have a few slabs of mineral wool ready to make the wall panels.
However, it has been great to be able to use the studio over the last few weeks be it only for very small amount. I will have a longish break over Christmas so it will be perhaps a good opportunity to do some serious recording and perhaps reflect on things.
Although this was primarily a studio build project, it has also been a part of the overall house improvement process including the extension, re-landscaping the garden as well as other smaller improvements towards a common goal. It has meant that the studio is now housed in its own space and does not encroach on our living space.
Since moving the equipment into the studio I had to make a decision with regards my old Roland electric piano which has been laying dormant in the workshop gathering dust for the past few years. Although it is now quite out-of-date compared with the latest pianos, it does have some value and it always had quite a nice sound. Firstly, the question was: does it still actually work? I wiped the worst of the dust away and lifted it onto the workbench, plugged it in and surprisingly it worked perfectly. I then spent a few hours cleaning thoroughly - including the stand and I have to say it came really well. There are only a few minor scratches picked over the years when I used it for gigging. It now has pride of place at the end of the dining room and gets used fairly regularly.
Back to the studio. I have one issue to resolve with the external door. When I attached the door itself I didn't quite get it vertically centrally within the frame and the lower edge was a bit near the door frame than I had intended. Over time there's been a slight drop which has resulted in the door rubbing very slightly on the frame. To resolve this I'll be taking some material off of the lower door frame edge. Another thing I need to do is attach a drip ledge at the bottom of the door to stop any rain from collecting under the door.