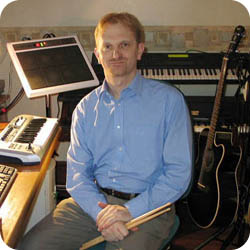 I have always had a passion for music in its many forms and I have been actively composing and recording music since around 1985.  I have also enjoyed success as a live performer in various bands over the years ranging from playing drums as a teenager to keyboards and guitars in a function band around the east of England.  I've always had a deep interest in the technology of music including the production,  recording, and engineering of music and sound.  I have had some behind the scenes theatrical experience providing musical/special effects, percussion, and music for amateur dramatic groups.  I have also been active in the world of production library music where I have had a number of works used in the world of TV and media worldwide.
Education
In recent years I have been studying music with the Open University to augment my practical skills. This has covered the in-depth study in the following areas:  Understanding Music; classical harmony, form, styles, elements & techniques  Technology of music; sound theory, acoustics, digital audio, MIDI, musical instrument history/construction and the history of music notation. In February 2010 I commenced another course:- From composition to performance: musicians at work (AA302). On the 16th December 2010 after 9 months of study including 5 written assignments and a 3 hour examination I successfully completed the course. This was combined with the earlier course A214 resulted in me achieving a Diploma in Music. This is, in fact, a step qualification towards a Degree in Humanities with Music.
Instruments:
Drums/Percussion
Guitar (Acoustic/Electric)
Bass Guitar
Piano/Keyboards

I write and record at my modest, but nonetheless highly specified, home recording studio using software-based recording and audio editing/mastering suites.  Full details of my equipment can be found in the equipment section. During 2009-13 I am converting an outbuilding at my home into a studio. I am keeping a diary of the progress which can be viewed here: >> Studio Build Blog <<
Also Interested in:
Photography, Natural World, Conservation, Astronomy, Aviation, Ale...